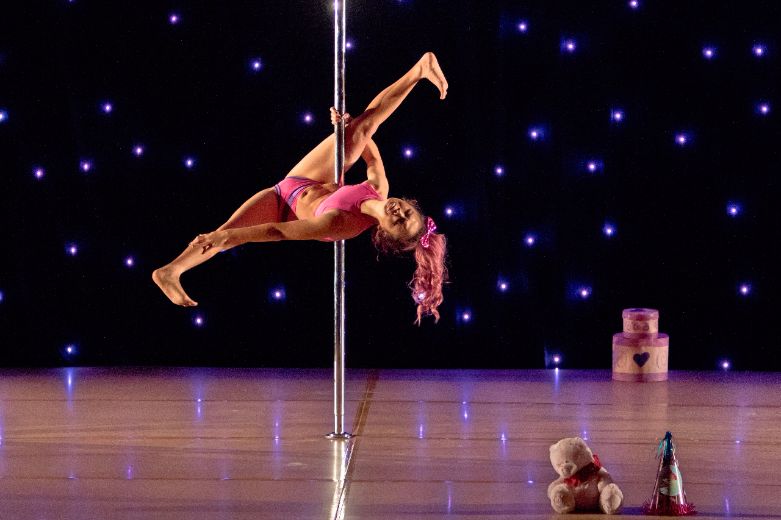 You will be on the fast track for learning to pole dance. Learning to pole dance is a journey and it takes time for your body to develop the strength it needs to be able to defy gravity. The more you are able to practice, the faster you will learn.
You will become very fit quickly! When you catch the "pole bug" (and you will), you will want to make sure you are taking classes such as Tone and Tighten and Flexibility to keep your body strong, flexible, and healthy. Classes such as Bellydance and Burlesque will help to develop your flow, teach you choreography, and sharpen your isolations.
You will be able to take workshops from an award winning pole athlete with over 12 years pole and over 35 years dance performance experience. Michelle is Pole Sport Organization "Unicorn" ambassador, a brand ambassador for Trick Tac Grip Pole Grip, and has judged a number of professional pole competitions. Michelle is the 2014 Northeast Aerial Arts PSO Professional Level Bronze winner, and 2016 SeaBoard PSO Level 4 Entertainment Gold winner. Many of Michelle's students had no dance or performance background before coming to Work It. As of 2018, Michelle's students have earned metals in 11 of 14 pole competitions they have competed in. For many, it was their very first time on any stage.
You will have a sense of accomplishment from achieving your goals. Is there anything better than accomplishing a goal you set out for yourself? I don't think so! When you work towards a competition or a performance, you commit yourself to seeing an entire routine through to fruition. "That takes a lot of work and determination! From initial inspiration, to choreographing your pole passes, to eating right and getting enough sleep, through adding the final rhinestones to your costume. When you compete you are gaining more than just a single performance, you are gaining an entire pole journey and all the pride that comes with it." (from PoleSport,Org)
You become part of a community. Nothing brings polers together than the excitement brought on by learning new tricks to perform for friends and family! You will be with others in class that will cheer you on, commiserate in your bumps and bruises, and help you every step of the way. If you decide to compete, you are getting the opportunity to interact with polers from all over your region, country, or the world – how incredible is that?!
WHAT THE 12-MONTH COMPETITOR PACKAGE INCLUDES:
1 full year of unlimited classes ($2750)
2 1-hour privates with Michelle ($200)
A 6-week Competition Practice Class ($500)
Assistance with competition music editing ($50)
1 Canvas Work It bag ($20)
1 Work It shirt ($35)
Sold Separately: $3,555
ONLY $3,000