From Patriots Cheerleader to Pole Dancing Studio Owner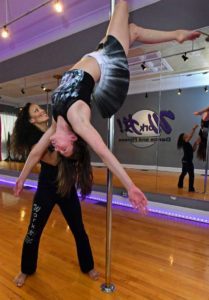 Read the original article on The Hour's website
NORWALK — With one leg bent at the knee and wrapped around a pole and her other foot braced for support, Michelle Abbruzzese appears to float effortlessly at a 45 degree angle several feet off the floor.
With her hands on her hips and a bright smile, she holds the pose for nearly 30 seconds without flinching. She makes the intense test of strength look easy, but that's her job.
With a background in athletic performance and a desire to empower men and women to feel confident through dance-based fitness, Abbruzzese, 45, opened Work It in South Norwalk six years ago, offering pole dancing and fitness classes, bellydancing, burlesque, cardio dance and more.
History
Pole dancing, while historically associated with strip teases in dark rooms, has gained popularity across the country as a popular strength-building and cardio fitness workout that gets people out of a traditional gym.
Michelle's Background
A Man's Perspective
Goals