Our fitness instructors continually train with some of the best dancers and athletes from Russia, Brazil, France, Australia, Italy, Canada, Japan, UK, Turkey, and other countries all over the world to ensure you are getting the best, most updated techniques in the performing arts.
MICHELLE
Owner, Pole, Burlesque, and Tone & Tighten Instructor
CLICK HERE to watch Michelle perform.
Michelle has been a performer all of her life, from her first recital at age 3, to performing in front of millions as a New England Patriot Cheerleader at Superbowl XXXVI. She has studied a variety of dance styles ranging from ballet, tap, and jazz in her younger years, to funk-jazz, cheer-dance, pole dancing, bellydancing, and cabaret/burlesque in her later years.
Dance experience: In total, Michelle has performed for 10 professional sports teams ranging from NFL, WNFL, AHL, AFL, AFL 2, CBA, and USBL. Michelle has been teaching dance for over 18 years in the Connecticut area and continues to perform and compete nationally.
Competitions: In 2014, at age 43, Michelle entered her first pole fitness competition and took the bronze metal in the highest pro-division at Northeast Aerial Arts (Pole Sport Organization), qualifying her for Nationals. Unfortunately due to the progression of her breast cancer, she was not able to compete at Nationals. In 2016, Michelle came back and took the gold metal in the Northeast Pole Sport Organization, Level 4 (advanced) Entertainment division.
Media: Michelle has appeared in numerous newspaper, magazines, videos, in blogs, and in newspapers. In 2016, Michelle and her Work It classes made front page news of 4 Connecticut newspapers. Michelle's fitness classes has appeared 4 times on "CT Style" (WTNH Chanel 8), News Channel 12, New Living Magazine, Cheetsheet.com, Broadway World Fitness, The National Examiner, Redbook, Sparkpeopletv.com, The Debbie Nigro Show, and more.
Fitness: Michelle is a X-Pert, Vertical Dance, and PDC certified pole instructor, as well as a member of the PFA and the APFA. Michelle is the creator of two popular DVDs, "Dance Yourself Fit" and "Tone and Tighten" and has appeared in over 13 of Ellen Barrett's fitness DVDs. Michelle has taught workshops at international aerial trade shows including Pole Expo in Las Vegas and Pole Con in Fort Worth, TX and Atlanta, GA. Michelle is the owner of Work It Dance and Fitness in Norwalk, CT, and continues to survive breast cancer.
TONY
Owner and Pole Fitness Instructor
Tony became interested in learning to pole dance after watching his wife Michelle train for years. He would use the pole that Michelle installed in their living room to do pull ups and leg lifts every morning. As he noticed his body becoming stronger, he became even more interested and started to take classes with Michelle to gain more formal training.
After more than a year of practicing, Tony decided he was ready for the next step and went through the rigorous X-Pert Teacher Certification. Tony passed with flying colors and became Work It Dance and Fitness' first male pole dancing instructor.
TAVA
Bellydancing Instructor
CLICK HERE to watch Tava perform.
Tava is a life-long dancer who began her training in belly dance as a New Year's resolution in 2000. Now, as a highly regarded instructor, choreographer and performer in the tri-state area, Tava has choreographed for theatrical productions ranging from Fantasy Belly dance to Shakespeare.
She has performed at many prestigious theaters including DNA, Merce Cunningham and The Gene Frankel Theater, as well as clubs, restaurants and cultural events. Known for her fluid and expressive style, Tava has appeared on television, in print, and on multiple DVD's. www.BellydancebyTava.com

KRISTA

Pole Dancing Instructor
Ever since Krista could walk, she was dancing. She began taking classes at the young age of three years old, and eventually began teaching ballet, tap, modern and hip hop to all age groups for several years.
In 2010 Krista moved to Norwalk and temporarily put dance on hold. But without her creative outlet she began to feel a void that nothing else could quite fill. That's when a friend asked her to take a pole dancing class at Work It in 2013. Krista's world was instantly turned "upside down".
Pole was a challenging and exciting combination of dance, gymnastics and strength training. She has been a loyal member of the Work It community ever since, appearing in Work It Fit's DVD workout videos: Dance Yourself Fit and Tone & Tighten. Now as a pole dance instructor she is excited to share her lifelong love of dance with others!

LUISA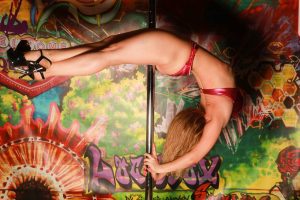 Pole Dancing Instructor
Luisa is originally from Switzerland and studied dance in Zurich, Paris, Rome and New York. She's trained in ballet, modern, jazz, belly dancing, salsa and pole of course. She completed the ElevatED Pole 1 certification at Body & Pole and an exotic dance teacher certification from Stripxpertease. She's also planning to take the Liquid Motion and Flexibility ElevatED certification. In 2015, she became the mom to a wonderful baby boy.
MELISSA

Pole Dancing / Martial Arts Instructor
Melissa started pole dancing in 2013 after attending a friends 40th birthday at a pole studio in NYC. Although Melissa's background is in martial arts, she was impressed with the strength and stamina required for pole & fell in love with it!
Since then she's entered 3 competitions and placed 4th, 2nd, and 1st as well as performed in several showcases and studio recitals.
Melissa is the proud mom of 3 beautiful children, a hairless cat, and a very patient dog.
IZZY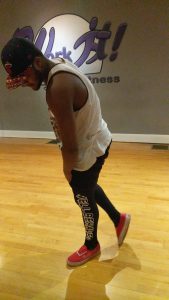 Hip Hop Instructor
Izzy has been dancing/ performing various styles of Hip Hop over the past 10 years. Izzy's dance troop took second place at the Termaine Dance Competition in January 2017 and was the only hip hop crew to place! In February 2017, they took platinum and high gold in the NGR Dance Competition.