Click here to  LIKE US ON FACEBOOK and learn about special discounts on our class prices!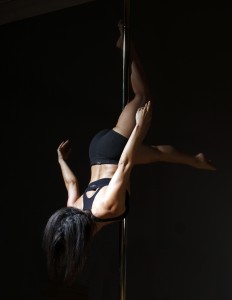 Our classes are priced within "categories":
Feel free to mix and match classes within each category to maximize your workout!
Classes are subject to change.  Please consult the schedule for the most up to date class times and offerings.
POLE DANCING

Intro to Pole/ Sensual Movements Only:

$25.00

Buy 5 Get 1 Free:
$125.00 ($20.84 per class!)
Buy 10 Get 3 Free:
$250.00 ($19.23 per class!)

All other Pole Dancing Classes

$35.00

Buy 5 classes get 1 free:
$175.00 ($29.17 per class!)
Buy 10 classes get 3 free:
$350.00 ($26.92 per class!)

Pole Playground (no Instructor):

$15.00

Private Lesson-1 Person:

$100.00/hour

Semi-Privare Lesson-2 People:

$125.00/hour

Semi-Privare Lesson-3 People or More:

$50.00/per person per hour
  * To schedule a private class, you must contact us for availability.

CARDIO DANCE / STRENGTH TRAINING:

(Includes Burlesque/ Fusion Dance Fitness / Tone & Tighten)

Single Class:
$18.00
Buy 5 classes:
$80.00 ($16 per class!)
Buy 10 classes:
$150.00 ($15 per class!)

BELLYDANCING / FLEXIBILITY & INJURY PREVENTION

Single Class:
$20.00
Buy 5 classes:
$90.00 ($18 per class!)
Buy 10 classes:
$160.00 ($16 per class!)
UNLIMITED CLASS PACKAGE

                                    Only $250/ Month for 3 months!

* Save hundreds of dollars a year!
* Sign up for ANY regular scheduled class as many times as you want!
* Perfect for people that plan on taking 3 or more classes a week.
Example:
2 Pole Dancing Class a week:           $70
1 Cardio /Strength Class a week:     $18
1 Bellydance Class a week:              $20
Potential total spent per week:        $108/week = $432 a month

Terms and conditions apply, 3 month commitment, please read contract before signing up.
OTHER DISCOUNTED PACKAGES
** SAVE EVEN MORE MONEY! DISCOUNT PACKAGES AVAILABLE! Click here. **
PLEASE READ CANCELLATION POLICY
Our scheduling system allows you to cancel a class up to 12 hours before the class starts without being charged for that class. If you cancel within 12 hours of the class starting, you will be charged for the full class and a refund or credit will not be issued. We pay the instructors and block off your space in expectation that you are coming. Failure to show is not fair to the instructors, or to the person that may have wanted to take your place in the class.