Michelle A: Owner, Pole Dancing, Tone & Tighten, Burlesque Instructor

Michelle has been a performer all of her life, from her first recital at age 3, to performing in front of millions as a New England Patriot Cheerleader at Superbowl XXXVI.
She has studied a variety of dance styles ranging from ballet, tap, and jazz in her younger years, to funk-jazz, cheer-dance, pole dancing and cabaret/burlesque in her later years. In total, Michelle has performed for 10 professional sports teams ranging from NFL, WNFL, AHL, AFL, AFL 2, CBA, and USBL.
Michelle has been teaching dance for over 14 years in the Connecticut area and continues to perform locally. Michelle is a X-Pert, Vertical Dance, and PDC certified pole instructor, as well as a member of the PFA and the APFA.
Tony A: Owner, Pole Dancing Instructor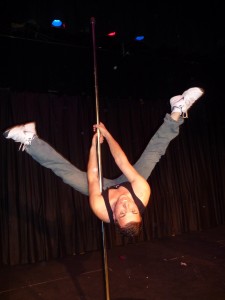 Tony became interested in learning to pole dance after watching his wife Michelle train for years. He would use the pole that Michelle installed in their living room to do pull ups and leg lifts every morning. As he noticed his body becoming stronger, he became even more interested and started to take classes with Michelle to gain more formal training.
After more than a year of practicing, Tony decided he was ready for the next step and went through the rigorous X-Pert Teacher Certification. Tony passed with flying colors and became Work It Dance and Fitness' first male pole dancing instructor.
Erika A: Pole Dancing Instructor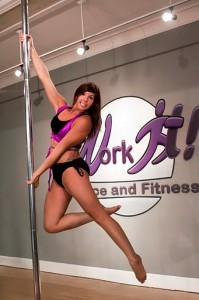 Erika grew up in the small town of Brookfield, CT. She never felt she was part of the "in" crowd due to her love and passion for the fine arts (her areas of expertise are urban, multicultural, and feminine studies). By day, she is a school teacher, and by night she has a passion for the art of pole dancing.
Erika became interested in pole dancing to help build her self-esteem after she was diagnosed with an auto-immune disease. With the use of medication and physical fitness, Erika battles to keep her symptoms under control. She started pole dancing in December 2009 under the instruction of Michelle Abbruzzese(Owner).
Erika also trained in several pole dancing studios across CT and in NYC as her passion became deeper. She continues to challenge herself by taking various pole classes from leaders in the industry. Erika is a certified X-Pert and Vertical Dance Trained Pole Instructor.
 Paula D: Pole Dancing/ Salsa Instructor
 
Growing up a tomboy, Paula was a natural track athlete who hated the gym. She has always had a love for dance and movement and in college she was part of a Latin performing group called C.O.L.A.D.A.  Now as an adult, she was looking to find something that played to her desire for fitness, friendly competition, and fun.
One day Paula and her friends decided to take a Intro to Pole class.  One problem…Paula's friends all decided to cancel and she ended up coming to class alone! Nervous and unsure what she was about to try, Paula decided to stay and see what is it all about.  Little did Paula know that she was about to embark into a whole new exciting world.
Now, two years later, the student has become the instructor and is eager to infect everyone she comes in contact with with the pole bug.  She continues to expand her pole vocabulary having trained at various pole studios in CT, NY, GA, and CA with renowned athletes in the industry. Paula is a certified X-Pert Pole Instructor.
Tava N: Bellydancing Instructor/Performer
Tava is a life-long dancer who began her training in bellydance as a New Year's resolution in2000. Now, as a highly regarded instructor, choreographer and performer in the tri-state area, Tava has choreographed for theatrical productions ranging from Fantasy Bellydance to Shakespeare. She has performed at many prestigious theaters including DNA, Merce Cunningham and The Gene Frankel Theater, as well as clubs, restaurants and cultural events.
Known for her fluid and expressive style, Tava has appeared on television, in print, and on multiple DVD's. www.BellydancebyTava.com
Demetrious W: Flexibility and Stretch Instructor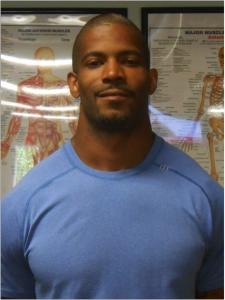 Demetrious is a local 12-year seasoned fitness trainer raised in Stamford, CT. He works as a personal trainer to athletes of all sports, children, seniors, pre and post natal women, special needs, as well as the everyday person.
Demetrious holds a degree in physical education and multiple fitness certifications including core, functional, and advanced flexibility training. With a background in athletics from youth to collegiate levels, he has the understanding of what it takes to train the body for maximum performance.
Demetrious will teach you to not only to have flexibility while holding a particular position, but to control your flexibility during movement, performance activities, and also to help you achieve maximum range of motion and all muscle groups.
The class will consist of three parts:
1. Warm up "Dynamic Stretch" (done by moving limbs in slow and controlled manner through its full range of motion.)
2. "Assisted stretch" (done with a partner)
3. "Active stretch" (done by the stretcher).
Very little force will be applied during these movements, which means each person will be able to work within their comfort zone and see result almost immediately.
This class is open to men or women of all fitness and flexibility levels.
Cory M: Fusion Dance Fitness Instructor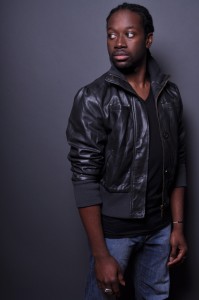 Cory started his studies in modern dance while in his ninth grade year of high school. Growing up in Fayetteville, NC, Cory studied under two highly skilled dance instructors: Asha Bala, a well trained modern dance and Indian Bharatanatyam instructor and Charlene Cox a well known Modern, Jazz and African instructor.
Cory's skills include West African, Modern, Hip-Hop and Jazz dance styles. He has taught in various workshops and performed in different venues throught out the east coast and the mid west.